---
| About Us |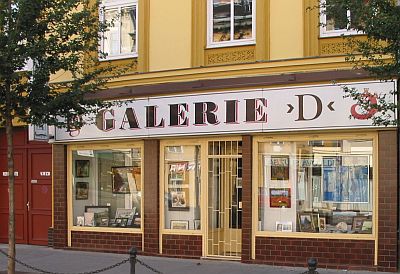 Galerie-D- was established on May 1, 1991, as one of the first private galleries in Brno. The building in which it was established was built at the start of the 18th century during the reign of Maria Theresa. It is located in the heart of Brno (see the map).
The founder and owner of Galerie-D is Jitka Cermakova. The gallery was founded on the basis of broad knowledge of the creative arts possessed by its founder, who is herself an active artist. Shortly after graduating from university, she worked in the tourism industry. Using her knowledge of five world languages, she visited more than 50 countries on various continents over the succeeding 20 years. She was inspired by the ancient cultures she came in contact with during her travels, devoting careful study to them and explaining them to the people she guided on trips and study tours in lectures. She used her broad knowledge to found this gallery and also became active as an artist herself. She created a large collection of oil paintings inspired by the countries she had visited – in some cases, many times – and which had become a part of her. These paintings created a kind of travel diary which is presented on this website in the OFFERS section.
During its many years of existence, Galerie-D has established a firm position among arts goer's art lovers.
Although Galerie-D offers art for sale, it considers its primary calling to be a cultural one.
That's why everyone is invited to come to the gallery, whether their interest be purchasing artworks or simply looking at those on display.
The gallery organizes regular art exhibitions. More information ban be found in the section labelled VERNISSAGES.


---
| PLAN BRNO - CENTRUM |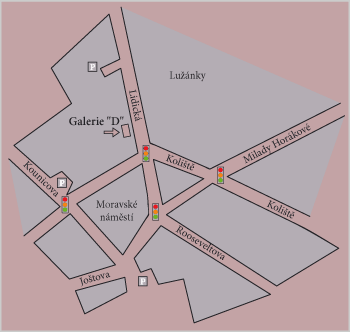 ---